Primary Care
Primary care is unique
The growing expectations of patients, staff, CQC, CCG's and professional regulatory bodies have created exceptional demands that are potentially unsustainable.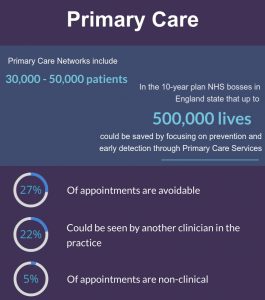 Increasingly some clinicians reject the leadership and operational demands of running increasing complex businesses. Shortages of clinicians, associated healthcare professionals, and other skilled and valuable support staff, can potentially undermine the sustainability of primary care.
The real assets of any practice are the skills, knowledge and commitment of staff. Protecting and enhancing their work environments is now a strategic priority for practices. It is the psychological aspects of the work environment for staff that is at the forefront of many leaders' minds.
"Where leaders focus on developing, engaging and supporting their people to improve services for patients and citizens, quality and performance metrics also improve.  It is no coincidence that those trusts with 'good' and 'outstanding' use of resources ratings also have 'good' and 'outstanding' well-led ratings, demonstrating the strong relationship between greater productivity and more engaged staff. In these organisations, staff are engaged by a shared purpose and motivated to work more efficiently and effectively-improving patient experience and redesigning care." – NHS Long Term Plan – Interim NHS People Plan, June 2019
Creating an environment where staff can ask for help and are able to express different opinions without fear of retribution directly adds value, it not only enhances the patient experience and care but also enhances the wellbeing of the workforce.
Open dialog by staff in practices is a good indicator of the extent to which it is safe to openly express opinions and ideas, the formation of small and agile leadership groups to make some decisions may take the pressure of partners and allow staff to feel valued.
Measuring psychological safety and reviewing this at a senior level enables you to gain an insight to your ability to optimise contributions from staff. It allows you to focus on the tangible and incremental changes that improve the psychological environment staff work in.
"As a large city NHS GP practice, we deployed the Team Works survey tool to help us enhance the Wellbeing of our staff. Team Works is easy to use, quick and provides really valuable data, presented in a clear and easy to understand way with clear recommendations. It has given us a real insight into the Wellbeing areas we need to focus on. It has allowed us to agree on the practical changes we can make. This helps our staff and provides a better service to our patients. I recommend Team Works to you." – Claire Atkinson, Practice Manager, The Grove Medical Group
Click Here to Download our Primary Care Specific Brochure.
Contact us to find out more about how we can support you.