Law
The Law is unique…
For those working in law, resilience is key! Solicitors are constantly exposed to high levels of stress; employee burnout is a significant risk to Practice. Regulatory change is enabling solicitors to Practice in different ways, and many are looking for a route that will protect their Wellbeing.
Attracting and retaining employees is therefore becoming a cause for concern in Law Firms if solicitors no longer have to practice in traditional ways.
Law requires attention to detail, client demands are rising, and responsiveness is expected, alongside the increasing pressure to meet Practice targets, this is challenging for employees.
PWC's, 2019 survey, identified that Brexit is the main concern for Senior Executives in the top 50 UK Law Firms, the impact of Brexit will result in a substantial change in the law, which legal professionals will need to keep up to date with.
With all these changes and demands, Partners and Leaders are struggling to find the time to develop, grow and support their employees.
A Psychologically Safe environment must be a strategic priority within law firms. Client satisfaction and profitability levels are highly dependent on staff being able to focus and concentrate, conscientious staff are fearful of making costly mistakes.
In May 2019, The Times reported that there is a significant challenge facing Law firms: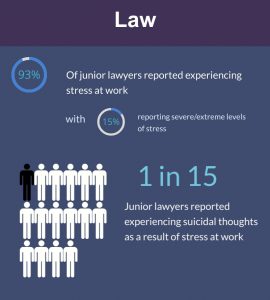 Embedding Psychological Safety in Practice is important, it allows you to measure the extent to which your teams are Thriving, Hiving and Surviving. This will provide the means to focus on the aspects of the work environment and culture that optimises contribution, support, staff retention, profitability and client satisfaction.
"Team Works has radically helped us to improve the wellbeing of staff and attract and retain highly qualified professional staff." – HR Director, Leading Law Firm
Click Here to Download our Law Specific Brochure.
Contact us to find out more about how we can support you.