Education
Education is unique…
There have been significant challenges in the radical management changes across the last decade, education reform and the move to academies has introduced new roles with new expectations.
Teacher attraction and retention is a strategic priority in many academies and schools, with some subject and geographical areas finding this particularly difficult, especially in areas with increasing pupil numbers and a rise in pupil poverty.
With technology developing at a pace, greater expectations on schools to provide IT equipment and deliver teaching through digitised adaptive learning platforms is putting pressure on teachers to upskill their technological ability and adjust internal cultures to adopt these new approaches.
Education has always been highly dependent on the level of discretionary effort displayed by teachers and to their credit most have always displayed high levels of this, yet increasingly it is not only teacher contribution and effectiveness that is evaluated but the culture and atmosphere that is seen to be fundamental to a schools success.
Teachers are beginning to assess whether their work environment is Psychologically Safe.
Insightful leaders are now focused on measuring and addressing those factors that influence the level of Psychological Safety and Wellbeing within academies and schools.
The annual Teacher Wellbeing Index: is widely recognised as the most in-depth and robust insight into the mental health and wellbeing of education professionals, 2019 figures indicate that stress levels among teachers and school leaders have increased for the third consecutive year to the highest levels ever.
73% of schoolteachers reporting being stressed in 2019, compared with 64% in 2018 and 67% in 2017.
Senior leaders reported the highest levels of stress in 2019 – 84%, up from 80% in 2018 and 75% in 2017.
Almost half (49%), believe their workplace is having a negative impact on their mental health and wellbeing.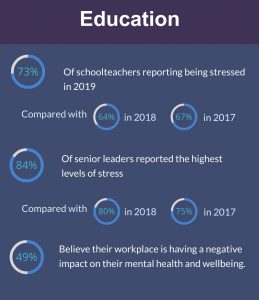 Tees Valley Education: a leading North East academy, recognise the strategic and operational value of measuring psychological safety and Wellbeing, they see it as  instrumental in aspiring to retain their excellent Ofsted results.
"Measuring psychological safety using Team Works for our teaching and support staff has provided us with a highly valuable strategic insight. We are actively using the tool to instrumentally improve the wellbeing of our staff, minimise avoidable absence and create an exceptional workplace." – Katerina Morley, Executive head teacher
Click Here to Download our Education Specific Brochure.
Contact us to find out more about how we can support you.